Have Questions?
We are happy to provide answers - no strings attached. Simply fill out the form below and one of our experts will be in touch shortly.
we will not share or sell your email
Managed IT Infrastructure Services and Project Management Solutions for North Highland Worldwide Consulting: An International Partnership for Success
Worldwide Office Expansions and a Need for an IT Infrastructure Solutions Company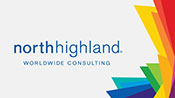 North Highland, a global consulting firm, prides itself on being a locally-based growth firm—with dozens of offices scattered across the world—so no matter where their clients are, they have an office nearby. This allows their consultants to be "closer to [their] client partners and have the opportunity to be involved in supporting the same local communities" in which they are located.
However, building and outfitting these diverse locations is no easy feat. As with many companies today, technology plays a huge role in North Highland's day-to-day operations. Consultants and offices must be able to effectively communicate with one another and their clients, whether from state-to-state, country-to-country, or continent-to-continent. Furthermore, each office must be properly secured and outfitted with any technology necessary, including network cabling, cloud services, VoIP phone systems, security systems, fire alarms, and more. With these various requirements comes an additional challenge: cities and countries have different codes, different construction and contracting teams, and different unions, among other things. As a result, each location build-out presents its own unique set of obstacles.
North Highland employees and offices each had advanced and unique technology needs, requiring the most cutting-edge technology available to help them best serve their clients. Therefore, a dated or one-size-fits-all approach to their IT needs would not be sufficient to allow them to deliver the high level of service they offer their clients.
In short, North Highland needed an IT infrastructure solutions provider they can trust to oversee the project management of various technical initiatives in their many locations. That's where C1C came in.
Full-Scale IT Planning, Installation, and Project Management Solutions
Customer 1st Communications (C1C) began working with North Highland in 2005 and quickly became the firm's first choice for business IT management solutions. Over the past decade, C1C has provided a wide variety of IT infrastructure and project management services for the consulting firm.
From access control systems and network cabling planning to cloud integration and conference room technology installation, C1C has created custom IT solutions for North Highland offices in the US, Europe and Asia.
Ken Hollowell, the Global Facilities Manager for North Highland, credits the success of the business relationship to C1C's unbeatable experience in the field, their high level of professionalism, and their unmatched dedication to a job done well and done on time.
"No matter how easy or how hard the job is—and that is dependent on local factors like the landlord and general contractors—they always work well with others and they always finish on time. Even though other trades may fall behind the project's schedule or the new landlord's due diligence might not be completed, C1C's work is always done when they say it will be."
Hollowell, who has worked in the facilities and operations management field for over 15 years, says C1C's customer service is unparalleled. "Customer service is why we stay with them," he says. "C1C is unmatched in regards to response times, from when the issue arises until when it gets resolved. Communication with them isn't just limited to e-mails or texting; they offer unbeatable customer service like it used to be."
While C1C has managed many different IT projects across dozens of offices, several unique initiatives stand out to Hollowell as demonstrations of the company's commitment to providing unbeatable service that fits the client's specific needs.
In 2015, North Highland built a social insights tool, called the "Agile Lab", that allows their technology and digital divisions to closely monitor clients' online and social fingerprints via back-end site analytics and social platform data. C1C worked closely with the North Highland team to understand their needs and to develop and install a customized technology plan for the project. "They were excellent in coming up with a solution and putting the infrastructure technology in place so that our analysts and consultants can fulfill the needs of our clients," says Hollowell.
In another example of their tailored IT service solutions, C1C partnered with North Highland to create a network of access control systems connecting all of the firm's offices worldwide. Under this custom-designed security system, authorized key cards are location-agnostic, meaning that consultants traveling from an Atlanta office to one in London can use the same key card to access both offices.
Better Client Services through Strong IT Service Solutions
North Highland's ongoing partnership with C1C has allowed the consulting firm to establish offices throughout the world that have a strong IT infrastructure and that are well-equipped technologically to serve their clients to the highest capacity possible. By providing an unparalleled level of customer service at all times and demonstrating a dedication to the quality and timeliness of their work, C1C has helped North Highland improve its business operations and client relations.
"C1C makes my life easier," says Hollowell. "They know my business. They understand what my needs are and what my desired outcomes are, and they hit the target every time. They go above and beyond any other technical company I've ever worked with. They want to get the job done, but, more importantly, they want to get the job done correctly—not only to my high standards but to their own high standards as well."
About North Highland Worldwide Consulting
North Highland is a global consulting firm that works with businesses of all sizes all over the world, helping clients solve problems and establish sustainable infrastructure. Founded in 1992 in founder Dave Peterson's attic, the company now boasts over 3,000 employees and 60+ offices worldwide. They are proud to work with four of the world's five largest banks and 26 of the Fortune 100 companies. To find out more about North Highland, please visit their website.
About Ken Hollowell
Ken Hollowell, the Global Facilities Manager for North Highland, oversees all of the back-office management for the firm's offices and locations across the world, from supervising security and office supplies to managing new office build-outs and facility administration.
About Customer 1st Communications
Customer 1st Communications (C1C) is an IT infrastructure and managed IT solutions company that provides outsourced IT services and project management to clients nationally and internationally. From access control systems and cloud integration to cabling, data center, and network installation, C1C creates customized solutions to fit each client's budget and timeline. Get more information about C1C here, or contact us today to request your free business IT analysis.
Featured Clients