Have Questions?
We are happy to provide answers - no strings attached. Simply fill out the form below and one of our experts will be in touch shortly.
we will not share or sell your email
Is Sound Masking Right For Your Office?
An office with fewer speech distractions makes for an effective workforce, which means there's no office space that couldn't benefit from all that sound masking technology has to offer. As modern open office trends have focused on providing open spaces with fewer walls and lower partitions, many offices suffer from lots of overheard cross talk and a lack of speech privacy. Thinner walls and doors mean that closing an office door no longer guarantees that conversations happening inside are secure.
How Does Sound Masking Work?
Sound masking loudspeakers emit a gentle, barely noticeable airflow-like sound into the environment. The sound's frequencies are specially targeted to cover up the consonants in human speech making it unintelligible and therefore, much less distracting. The office isn't actually quieter, but it feels like it is.
Why Cambridge Sound?
Cambridge Sound Management is used by over 20,000 organizations all over the world, and with a wide variety of sound masking solutions you can be confident there's a sound solution for your company.
QtPro
Product Details
The QtPro is the easiest sound masking system to layout and install with only 3 components required.
1. Qt System Control Module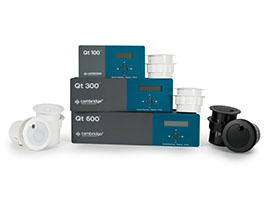 Based on the acoustical requirements of the space, there are three control modules to choose from: Qt 100, Qt 300, and Qt 600.
2. Qt Emitters
Small, plug and play individually adjustable speakers are plenum-rated, UL-listed and comply with UL 2043
3. Cabling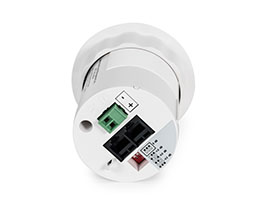 Standard CAT-3 and RJ-45
Why QtPro Sound Masking?
Simple layout and installation process–can be installed in any space or ceiling type
Integrated music and paging capabilities
Scalable systems suitable for small spaces up to 1.2 million square feet
Reduces the need for expensive construction or sound blocking materials
GreenSpec listed–uses less energy than a light bulb
DynasoundPro Sound Masking
DynasoundPro sound masking features networked, individually addressable speakers.
Features: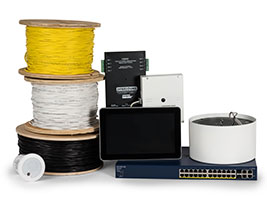 Loudspeakers (Several options)
Loudspeaker Controller (DS8000)
Cabling
POE Network Switch (DSPoE24)
Touchscreen Interface (DSTS10POE)
Paging and Music Interface (DS3008 or 3002)
Why DynasoundPro Sound Masking
Individually addressable speakers – perfect for office space that is often reconfigured
Out of sight – loudspeakers can be installed above the plenum
Under-floor options for raised access floors
Eavesdropping protection products
Featured Clients